Invisalign®
Did you know that 49% of people who would benefit from orthodontic treatment would not consider treatment if it involved braces… If you are one of those people, you're in luck as we have been a Leading Invisalign Provider for over a decade! Even if you have been told that you are not an Invisalign candidate, we would be happy to give you a second opinion. Since our doctors are up on the latest in the technique and have among the most experience in North America, it is likely that you are a candidate for Orthoworks!
Many of our patients had never considered traditional braces. They were worried about the inconvenience, discomfort, and change to their appearance that braces would bring. Now they are happily and comfortably improving their smiles with Invisalign®. And if you are in the bay area, from Milpitas to Menlo Park, Invisalign can be your path to the smile of your dreams.
What Is Invisalign®?
It is an invisible way to straighten your teeth without braces—no one knows but you.
It uses a series of clear, removable, custom-made aligners; this makes their use much more convenient in comparison to traditional braces.
It does not require the use of metal wires or brackets—no need to worry about scraping and discomfort.
Each aligner is custom-made for optimum comfort; we use 3D imaging to ensure that each aligner is perfectly fitted to your anatomy.
The benefits to using Invisalign are numerous. To find out if the system is the right course of treatment for you, visit one of our Bay area offices. From Pacifica to San Jose, Invisalign treatment is our specialty.
Read More About Invisalign…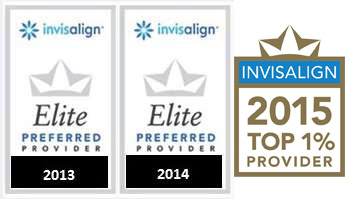 Orthoworks has been an Invisalign Elite Top 1% Preferred Provided 4 years in a row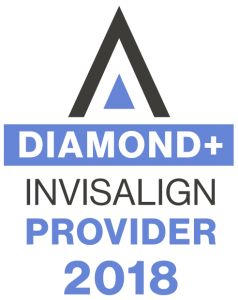 Straighten Teeth Without Braces
Invisalign Use & Care

Types of Treatment
Metal Brackets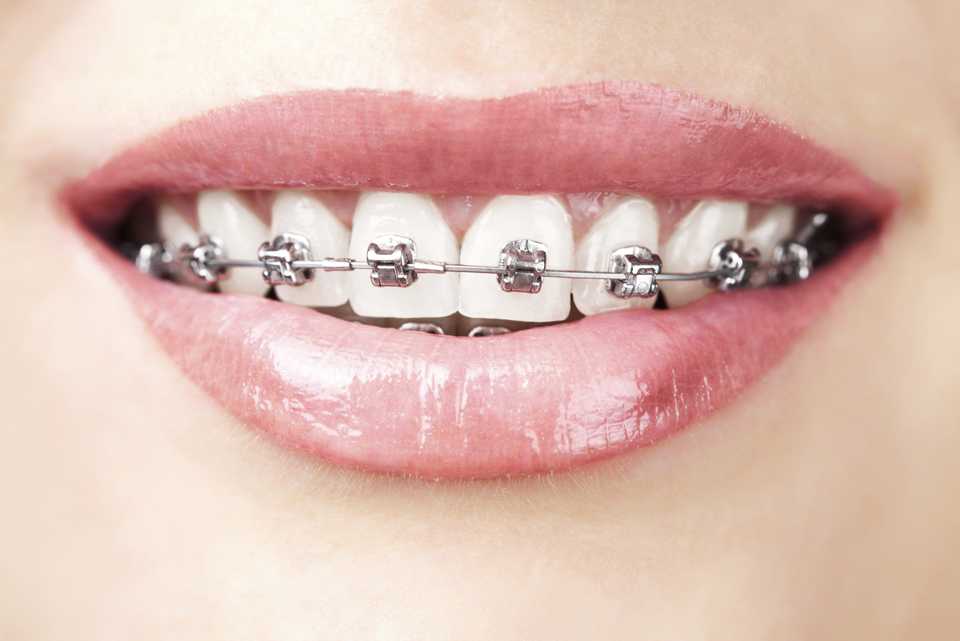 Metal braces are the most common type. They are made of high-grade stainless steel. Today's metal braces are smaller, more comfortable and more attractive than previous models.
Damon® Brackets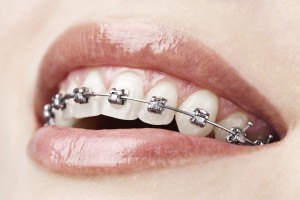 Damon® braces were invented by Dr. Dwight Damon. The Damon® bracket utilizes (sliding-door) technology known as "self-ligation" that allows the wire to slide back and forth within the bracket. No elastic or steel ties are used with Damon® brackets. This technology creates less friction and results in greater comfort for the patient. In addition, Damon® braces often reduce both treatment time and the number of adjustments that are usually performed.
Ceramic Braces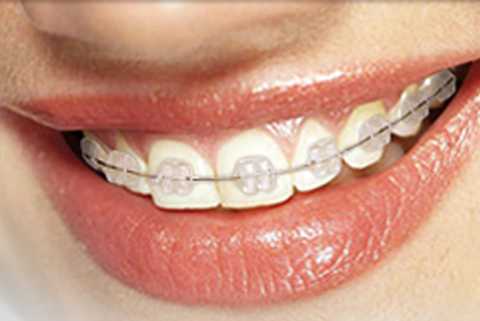 Ceramic braces are made of translucent (clear) material. They are most popular with adult patients, due to their cosmetic appeal. The only drawback to ceramic brackets is that they are more fragile, and the elastic ties can discolor between orthodontic visits.
Incognito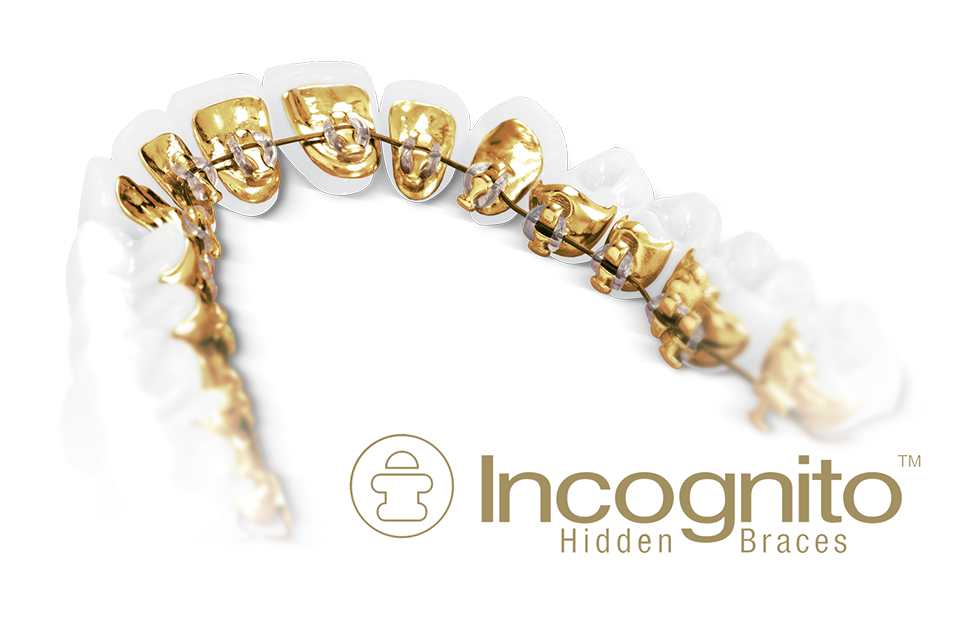 Ceramic braces are made of translucent (clear) material. They are most popular with adult patients, due to their cosmetic appeal. The only drawback to ceramic brackets is that they are more fragile, and the elastic ties can discolor between orthodontic visits.
Life With Invisalign
The Invisalign System combines advanced 3-D computer graphics technology with 100-year-old science of orthodontics. Invisalign aligners are designed to move your teeth in small steps to the desired final position prescribed by your orthodontist. Each aligner is precisely calibrated and manufactured to fit your mouth at each stage of the treatment plan. Your first step is to visit our office to determine if Invisalign is right for you. After sending precise treatment instructions, Invisalign uses advanced computer technology to translate these instructions in a sequence of finely calibrated aligners — as few as 12 or as many as 48. Each aligner is worn for about two weeks and only taken out to eat, brush and floss. As you replace each aligner with the next, your teeth will begin to move gradually — week-by-week until the final alignment prescribed is attained. Then you'll be smiling like you never have before!
To ensure the best possible results, only an orthodontist who has been trained and certified by Align Technology can diagnose and treat using Invisalign. Invisalign is not intended for children and is not appropriate for every adult. Only an orthodontist can determine if this treatment is an effective option for you. To see if Invisalign can help you achieve the smile you've always wanted, contact us to make an appointment.
Read More About Living With Invisalign…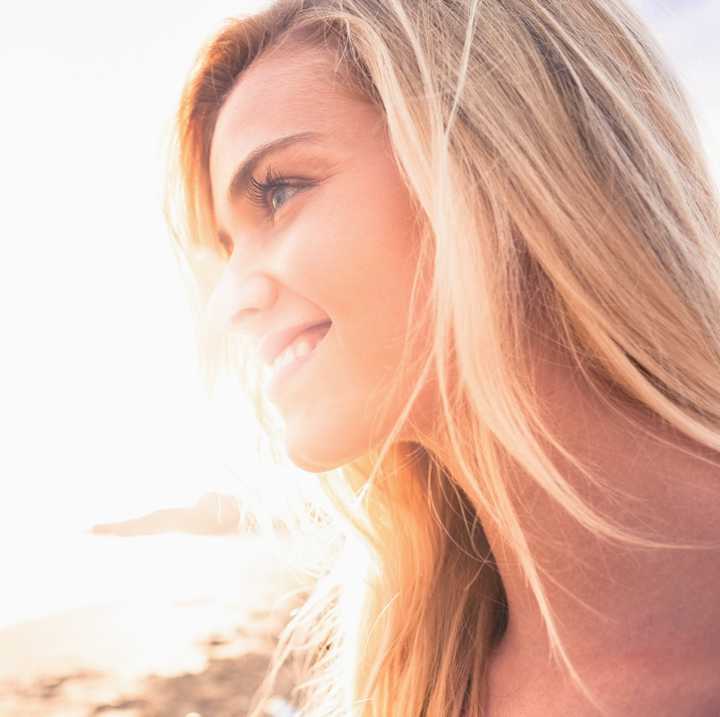 Try the online Smile Assessment!
Life With Braces
When you are first fitted with braces, there will be a few things you will need to get used to. The following information should address any concerns you may have, and make your orthodontic experience as pleasant as possible!
Eating With Braces
It's not going to be easy at first and, in the beginning, foods you can eat will be limited. You'll want to stick to foods that are soft, fluffy, and easily mashed up. Pancakes, oatmeal, bananas, soups, cooked vegetables, applesauce, mashed potatoes, mac & cheese, and soft ice cream – just to suggest a few. Stay away from foods that are hard, crunchy, sticky, or tough.
Foods to Avoid
Please avoid these foods while wearing braces.
Sticky:

Gum, caramel, tootsie rolls, peanut butter, toffee, taffy, granola bars, frozen candy bars

Hard:

Apples, carrots and other raw vegetables, chewing ice, nuts

Crunchy:

Popcorn, chips, hard tacos, celery

Tough:

Bagels, corn on the cob, sandwiches, steak, ribs, beef jerky
General Soreness
Your mouth is going to feel sensitive and a bit sore when you first get your braces put on. To help alleviate the soreness, you can rinse your mouth with a salt-water solution or take an over-the-counter analgesic. If your braces are rubbing or poking your mouth, you can use dental wax (available at the office or your local drugstore) to cover problem areas and prevent blisters.
Loosening of Teeth
Part of the process of creating your new, beautiful smile is moving your teeth; to move them, they need to loosen up first. "Loose teeth" are a natural part of the process. Once your teeth are in the right place, they will settle into their new position.
Loose Wire, Bracket or Band
Inevitably, something is going to come loose. A bracket will loosen or a wire may pop out of place. If it's a flexible wire, you might be able to push it back into place using tweezers. If you can't move it with tweezers, you can use a pencil eraser or the back of a pen to push the offending wire down. Dental wax will also be your friend; place a small amount on the spot to cover the problem area. Next, schedule an appointment to have the wire, bracket, or band repaired.
Care of Appliances & Brushing
It is always important to brush and floss your teeth to keep them clean and healthy – with braces, it's more important than ever. Consistent brushing and flossing will ensure that your gums and teeth remain healthy throughout your treatment.
Brushing & Flossing
You know how important it is to brush and floss properly when you're wearing braces — but what's the best way to do that? Let's start with the basic brushing tools: Either a soft-bristle brush or a bi-level brush (one that has shorter bristles in the middle and longer bristles at the edges) can be effective. Used carefully, an electric toothbrush can work just as well. But be sure the electric brush is set to a moderate power level, and don't let its vibrations cause the back of the brush to hit brackets or braces!
You should brush with a fluoride toothpaste at least four times per day preferably after meals and before you go to bed for at least FIVE minutes each time. Remember to brush all of the tooth surfaces: the outside, the inside, and the chewing surfaces as well. Be especially careful to clean the areas between wires and teeth, and between brackets and gums — that's where food particles can easily become trapped.
Here's a suggested brushing technique: Beginning at the outside surfaces, place the tips of the bristles flat against your teeth, and use small circular motions to gently polish them clean. For areas between braces and gums, tilt the brush toward the gum line (down for the bottom teeth, up for the top) while keeping up the circular motions. Next, move on to the chewing surfaces of upper and lower teeth, using a firm back-and-forth motion. Finally, finish up by carefully brushing the inside surfaces of the teeth the same way you did the outside surfaces.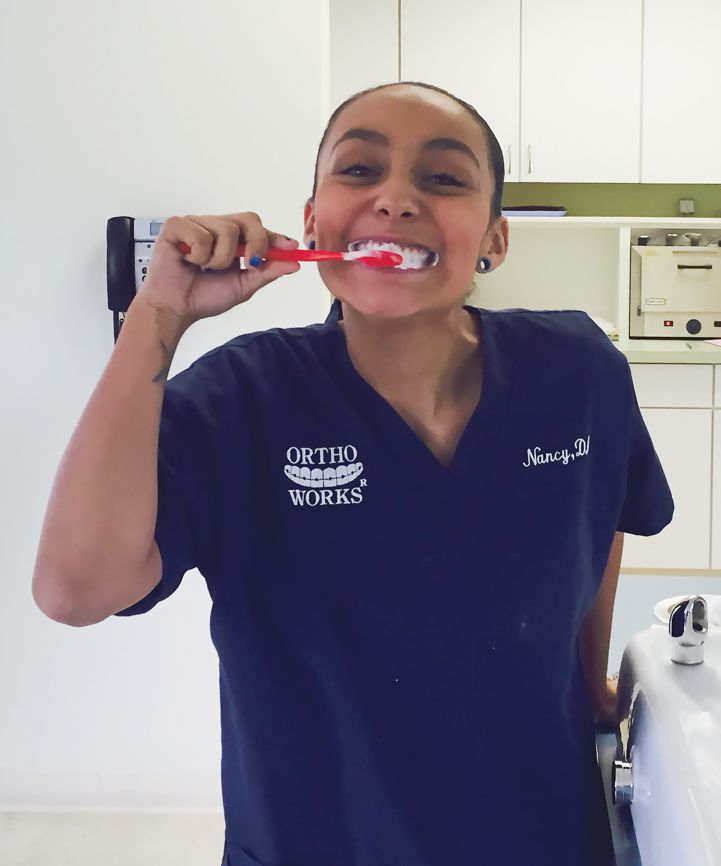 Special Brushing Tools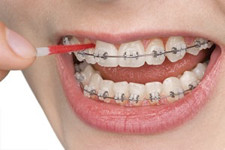 If you're having trouble cleaning the areas near brackets and wires, there are some special tools that may help. One is the interdental toothbrush, or proxabrush. It has a small tuft of bristles that stick up all around, like a pipe cleaner. Use it gently and carefully to clean the tiny spaces under wires and around bands and brackets.
Another special cleaning tool is the oral irrigator or "water pick." This device shoots a small stream of pressurized water at your teeth, which can help dislodge bits of food that become trapped in nooks and crannies.When used along with proper brushing and flossing techniques, it can be very effective.
Floss Fundamentals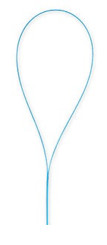 To keep your teeth and gums clean and healthy, you need to floss at least once per day. But how do you get floss under the archwire of your braces? It's not so hard with the help of a floss threader. Using this device is somewhat like threading a needle: You pull one end of floss through the threader, and then push the threader — carrying with it the free end of the floss — under the archwire. Now grasp the floss on each end and slide it up and down the sides of both teeth, and all the way under the gums until you hear a squeaky sound. Finally, pull it out and use a new section of floss for the next area.
Full Disclosure
Ever wonder how effective your tooth-cleaning techniques really are? There's an accurate way to tell, using special vegetable dyes called "disclosing solutions" or "disclosing tablets." As they dissolve in the mouth, these dyes highlight plaque and food debris that brushing has missed. You can then easily remove the dyed spots — and you'll know for sure if your oral hygiene methods need a little "brushing up."
Keeping your teeth and gums healthy now is an investment in your future. It enables you to get the best results from your orthodontic treatment, and starts you toward a brighter smile that can last for a lifetime.